Black Hand
Squads
are groups of elite soldiers from the
Brotherhood of Nod
's Black Hand, who specialize in close combat.
Tiberium Essence
Edit
Following the Firestorm Crisis, the Black Hand, just as the rest of the remaining Nod forces, went underground yet again. Before the beginning of the Third Tiberium War, they formed the core of the Brotherhood revival efforts, gathering support for them in the Yellow Zones and procuring supplies and technology. Soon, their ranks expanded, to the point of them becoming the elite infantry formations of the Brotherhood. They are a fierce, brutal and absolute loyal fighting unit. Functioning as the primary assault force of the Brotherhood's special forces in the battlefield, Black Hand Squads are ruthless in combat. Even GDI's elite Zone Troopers are known to fear these soldiers for their sheer brutality and deadly flamethrowers.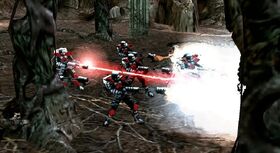 Each squad member is armed with high-tech powered combat armor capable of masking their heat signatures and absorbing enemy fire for prolonged periods of time, and a lethal flamethrower that makes short work of any type of infantry, including garrisoned units. They can also be upgraded with an Elite Cadre Member armed with a LB-70 laser rifle and hallucination grenades to lead them into combat.