Buzzers
Faction
Scrin
Cost
200
Produced By
Portal
Build Time
0:04
Role
Basic AP Infantry
Armament
Itself
Upgrades
Tiberium Hive
Abilities
Combine with Vehicle

Clear Garrisoned Structure

Heal in Tiberium

Requirements
-
The
Buzzers
are the
Scrin
's basic infantry. Each Buzzer looks and acts like a flying blade, slaughtering all infantry and clearing garrisons the instant they come into contact. They do not seem to be led by anything, raising questions on how the Scrin was able to command them.
Tiberium Essence
Edit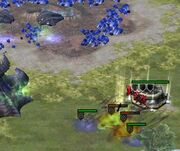 The Buzzers are the cheapest unit of the game, though they are extremely effective against infantry. However, they can only use melee attack, and have to get close to the enemy to deal any damage at all. They are weak, and therefore must attack in great numbers against anti-infantry targets. The new Tiberium Hive upgrade gives them more health as well as improving their speed, making them less vulnerable against other infantry. They can also easily swarm into an enemy garrison and clear it out, becoming a great threat to infantry, even when inside structures. They also have the ability to combine with any Scrin ground vehicle and attack any infantry threats around their host. They are also available through The Swarm support power.
The Buzzers are the only unit to use melee as their main weapon and one of the two to use melee at all, the other being the Stalwarts.
The Buzzers and the Stalwarts are the only Scrin units that can garrison structures.
The Buzzers' behaviour and design are extremely similar to The Swarm of Resistance 2.