The Disk Throwers are GDI's grenade infantry and excel at clearing garrisons. They also deal powerful damage against structures and groups on infantry. Some infantry, such as Masterminds or Shadow Teams, can easily dodge these grenades though.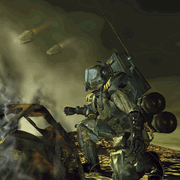 Tiberian Sun
Edit
The Disk Thrower was GDI's secondary soldier, being powerful against both infantry and vehicles. When a Disk Thrower dies, his disks would all explode as well, often dealing considerable damage to surrounding units.
Tiberium Essence
Edit
In Tiberium Essence, the Disk Thrower Squad is effective against infantry as well as structures. Their disks move slowly, so fast infantry units can easily dodge them. However, slower infantry will be annihilated by their disks, and they are not safe inside a civilian structure either, as the disks can clear them out. Also, the Disk Thrower Squad can be upgraded with Composite Armor to gain additional hit points and become resistant to Tiberium poisoning.