Designed to provide repair and fire support to frontline
GDI
units, the Rig has weak armour that can't survive on the battlefield very long without proper protection.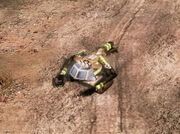 However, it is not intended for use in direct confrontations. It is a support vehicle, capable of converting into a mobile
Battle Base
that, apart from having stealth detectors, two Guardian cannons and a SAM site, can also repair damaged vehicles. Try deploying rigs in sets of two. Deploy both into Battlebases to attack. Then, return one to a Rig, and let it be repaired by the other Battlebase. Then switch their roles to repair the second.
Tiberium Essence
Edit
Only two changes made in Tiberium Essence are Railgun Upgrade upgrade and Call for transport ability. With these changes, the Rig is now much more powerful when deployed and is much more mobile when packed-up. In version 1.5, the Rig was replaced by the more mobile Orca Rig. While the original Rig cannot be built in game, it can be placed on the map with the World Builder