The Sniper Team is GDI's advanced reconnaissance and long range anti-infantry unit in Tiberium Essence.
Tiberium Essence
Edit
With Nod's progression in advanced reconnaissance and stealth infantry, GDI needed their own elite scout units.
The result: Sniper Teams. Advanced stealth units specializing in long range support with their GLS-70 rifles, and supplying critical data and information on Nod movements to central command. These soldiers grew particularly popular among GDI commanders after the Firestorm Crisis, as they offered covert recon operations of key Nod regions, without the need for Orcas or Tempest MLRS patrols.
In the Third Tiberium War, they were also widely used, particularly as forward vanguard troops scouting ahead of the brigades in Earstern Europe and North Africa.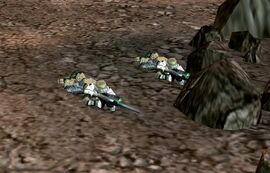 They operate in groups of two, both members wearing an advanced frontal mask with a green Head-Up Display and filtration system, capable of interacting with the GLS-70 rifles for more precise shots. While the majority of Sniper Teams are deployed from the Barracks, they can also be brought in with the
Sharpshooter Team
support power. When a
GDI Battleship
or
Juggernauts
are present, Sniper Teams can spot targets for them.
Since version 1.4, the Sniper Team consists of two snipers, rather than sniper and spotter as in the base game.