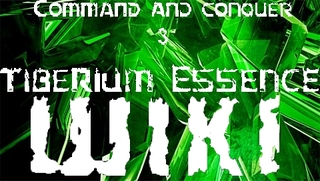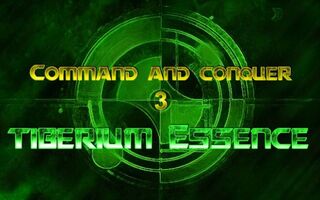 Welcome to the Tiberium Essence Wiki
Edit
This is a collaborative wiki about the Command and Conquer 3: Tiberium Wars modification, Tiberium Essence, created by Carnius. It is a database for all things relating to the mod.
Tiberium Essence hosts its own forums right here! Check them out, provide feedback, sneak a peek at the latest developments, and find more people to play with!
Tiberium Essence 2.0 Release
Edit
On Jan 2nd, 2019, Carnius released the unfinished alpha of Tiberium Essence 2.0. This alpha contains the playable Forgotten faction and many gameplay bug fixes and tweaks. Currently the AI for the forgotten faction is not implemented.
Tiberium Essence 2.0 Alpha can be downloaded via Moddb here.
Tiberium Essence 2.0 Media & News
Edit
On December 1st 2014, Carnius released new information concerning the next version of Tiberium Essence, version 2.0. The Forgotten army of Mutants will be making a comeback in TE 2.0, using recycled technology from the First and Second Tiberium War, with some structures having a Red Alert influence to them as well. Note that everything released so far about 2.0 is in alpha and may change during the development.
Read Carnius' news post here
See pictures of the new Forgotten army and other 2.0 goodies here
When more information about the Mutants and other updates are provided, Tiberium Essence Wiki will be updated as well.
Comming arund chistmas 2018 here
Tiberium Essence 1.6 Beta Released!
Edit
Carnius, Tiberium Essence Team Leader, has released a beta version of Tiberium Essence 1.6! It is currently undergoing further testing by the team and the community - visit the Tiberium Essence forums to post bugs, glitches, and feedback. Good hunting!
Download Beta 1.6, here or here !
What is Tiberium Essence?
Edit
Tiberium Essence is a fan-made modification for Command and Conquer 3: Tiberium Wars. It brings back the most desired things from previous C&C games, such as: Blood and gore, Tiberium flora and fauna, return of the traditional Tiberium crystal model, cyborgs, the iconic Titans and Wolverines, and even the mighty Mammoth MKII. If you are not convinced yet, then here are some of the good reasons to choose Tiberium Essence:
Tiberium Essence's ModDB voters' rating is a monumental 9.6! (Tiberium Essence ModDB Page)
Not only is it very well balanced among the three main factions, but it is probably the most balanced CnC 3 mod that you can download on the web today.
The units and environment is being redesigned to better suit the Tiberium universe. Both Carnius and his closest assistants and moderators are constantly pushing the mod to be a true continuation of Tiberian Sun. We will not stop until every problem is flattened out!
Each faction has had their own tweaks and revamps.
The mod is fully compatible with the single player campaign for all three factions.
The creator, Carnius, on ModDB is actively involved with the community, taking feedback both positive and negative, for balance, gameplay, or even for storyline problems.

Carnius does in-depth testing to make sure that it is as glitch free as possible.
This mod's detail and quality are off the charts when compared to other Tiberium Wars mods on the net.
The mod is being worked on by a one person with assistance from a few others. Miscommunications are minimal, if not non-existent.
Revamped music with new custom made tracks mixed along with a number of Frank Klepacki's iconic tracks.
It has a strong fanbase. Need help with anything? Visit the ModDB Tiberium Essence Fans (TEF) group!
You can always find teammates and foes to play against, visit TEF!
Please, while you are here, browse the images, videos, and news releases to see (up to the minute) what is going on with Tiberium Essence. Feel free to go ahead and post some images or videos of your own or even maps and other addons that are made for Tiberum Essence. You could even go ahead and compete in the contests that might be going on! For more info, go to the contest section of the forums.
Thanks for coming to our Wiki, and for checking out Tiberium Essence!
Latest activity
Edit
This is where you can see everything that has been happening on the wiki lately. We at Tiberium Essence Wiki advise you to check this area often because it changes daily and is the easiest way to know what is going on around the wiki.